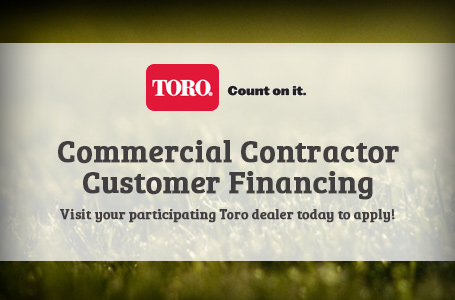 Toro Commercial Contractor Customer Financing
Special Financing for Homeowners and Contractors
Purchasing Toro products is easy and affordable with special Toro sponsored finance promotions available through your participating independent Toro dealer. Both revolving charge (Toro card through Synchrony Financial) and installment loan (Sheffield Financial) programs are available. Your dealer may offer either one or both options...just ask them. You may apply online and get a decision in seconds or visit your participating Toro dealer today!
Note: Online applications are completed through the Synchrony Financial or Sheffield Financial websites. Synchrony Financial's and Sheffield's privacy statements and website terms and conditions apply.
NEW Stated Value Lease for Contractors
We've added valuable new "Lease Loyalty Benefits" to the Toro lease providing you additional peace of mind!
Lease Loyalty Benefits*: When you re-lease new Toro equipment
Excessive Wear Waiver – Up to $250 off any excess wear charges
Excess Hour Forgiveness – We'll cut any over use charges in half
Hour Saver Credit – Earn a credit for hour usage below the max allowed
*See your dealer for details and to apply.
Financing Promotions
0%/Monthly Interest for 42 months
Now includes 90 Days No Payments/120 Days No Interest through Sheffield Financial for Commercial customers ONLY
Available through 10/31/2016
On Purchases of $1500 or more on TimeCutters, TITANs or LCE Equipment
A Promotion Fee will be charged
42 Equal Monthly Payments Required
3.99%/Monthly Interest for 60 months
Now includes 90 Days No Payments/120 Days No Interest through Sheffield Financial for Commercial customers ONLY
Available through 10/31/2016
On Purchases of $1000 or more on TimeCutters, TITANs or LCE Equipment
A Promotion Fee will be charged
60 Equal Monthly Payments Required
1.99%/Monthly Interest for 48 months
Available through 10/31/2016
On purchases of $1500 or more of Professional Equipment Commercial use customers ONLY
Commercial use customers ONLY
See dealer for details
Seasonal Payments - 1.9%/Monthly Interest for 36 months
1.9% for 36 Months
Available through 10/31/2016
No Payments each year December - March
On Purchases of $10,000 or more on Professional Equipment Commercial use customers ONLY
Commercial use customers ONLY
See dealer for details
Available through Sheffield ONLY
Seasonal Payments - 2.9%/Monthly Interest for 48 months
2.9% for 48 Months
Available through 10/31/2016
No Payments each year December - March
On Purchases of $10,000 or more on Professional Equipment Commercial use customers ONLY
Commercial use customers ONLY
See dealer for details
Available through Sheffield ONLY
Seasonal Payments - 3.9%/Monthly Interest for 60 months
3.9% for 60 Months
Available through 10/31/2016
No Payments each year December - March
On Purchases of $10,000 or more on Professional Equipment Commercial use customers ONLY
Commercial use customers ONLY
See dealer for details
Available through Sheffield ONLY